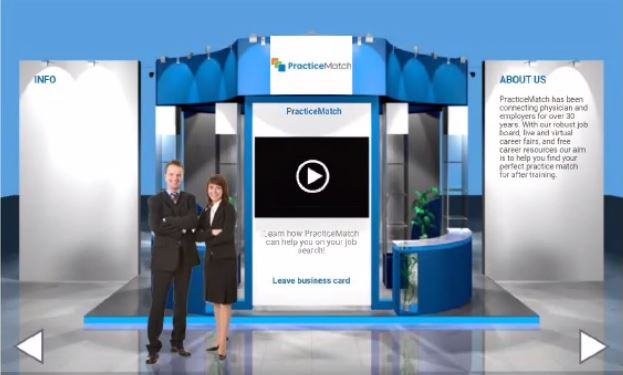 Example of a virtual booth inside the FMEC 2020 Meeting Platform
2020 FMEC "Virtual" Residency Fair


October 1st and 2nd:  6:00 pm - 8:00 pm and October 3rd:  1:45 pm - 3:00 pm EST


This is a great networking and recruiting event for your program!
We expect 80+ Residency Programs to participate and 300 medical students to attend.
Create a unique residency fair booth with the look and feel of your organization.
Residency programs can connect with medical students in their booth via chat/video.
Thank you to the

70 Residency Programs

that are registered!
"The FMEC Residency Fair is our most successful recruiting event of the year!  Over the years we have tracked our Applicant "connections" from the AAFP National Conference, the FMEC conference and our activity at local Medical School FMIG meetings/Recruitment Fairs.  The FMEC conference has proven to be a consistent leader in producing connections that lead to interviews and to future residents. Thank you FMEC, you bring a great group of future and current Family Physicians together to connect!"   Bill Warning, MD, Program Director 
Residency Fair Booth Fees - Registration deadline Sept. 16
Early Bird Booth Rates end August 22:  Partner:  $650  | Non-Partner $950
Booth Rates, Aug 23 - Sept. 16:  Partner:  $700  | Non-Partner $1,000
FMEC Partners may register their booth at a reduced rate. Join today!  Click here
* Up to 4 faculty will receive logins to staff the booth.
Residency Fair Registration Instructions
Step 1:  Complete the form, click here 
You will register your program's virtual booth, residency director and FREE Resident via this form. 
All other faculty/residents register via the Annual Meeting form. (see Step 2)
Step 2:  Register all other Faculty and Residents attending this year's meeting here:  2020 FMEC Annual Meeting 
Step 3: ***NEW THIS YEAR*** Organizations that register for this year's Residency fair are eligible to lead a virtual Hot Topics in Family Medicine discussion meeting in the evening for one hour Sept. 28 - 30 @ 5:30 pm, 6:45 pm and 8 pm EDT.  See the registration link in your confirmation email.  Cost = $250.  Register your booth to be eligible to participate! 
GREAT NEWS! 
If your organization created a booth for the AAFP National Conference then the majority of the work has been completed! We will be able to transfer that booth into the FMEC 2020 Annual Meeting. We would ask that you review the booth to ensure the information is most current for your organization.
Cancellation Policy
Please notify the FMEC of cancellation by emailing [email protected].   
All cancellations must be received by August 31st to be eligible for a full refund minus the $50 administrative fee. 
 Please e-mail [email protected] with registration questions.