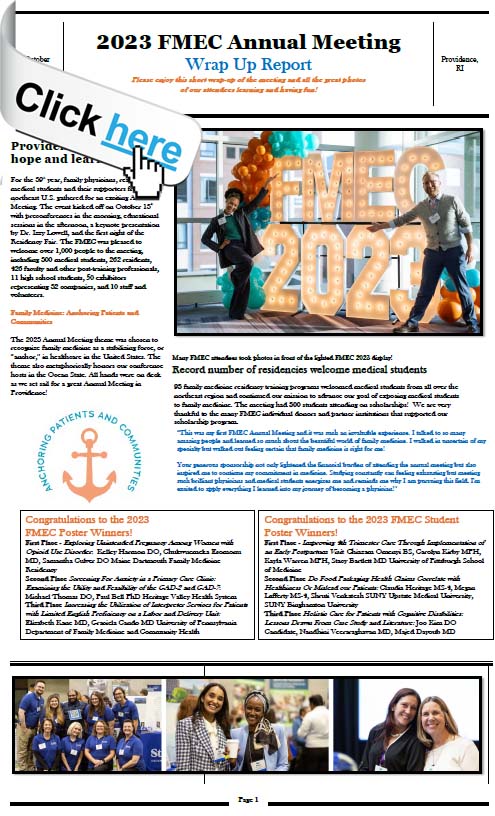 The 2023 FMEC Annual Meeting was a great success!  Attendees gathered, learned, shared and celebrated as the meeting showcased how Family Medicine Anchors Patients and Communities. 
Thanks to all who attended!  We look forward to seeing you all next year in Philadelphia, PA, September 18-21.  
View the daily emails!  10/13/2023       10-14-2023      10-15-2023
View and download the complete Annual Meeting program.
---
Join the FMEC's new learning collaboratives
Hereditary Cancers in Women/Narrative Medicine: The FMEC is launching a NEW Hereditary Breast Cancer Quality Improvement Initiative for family physician clinics and Family Medicine Residency programs on hereditary cancers in young women utilizing the Centers for Disease Control and Prevention (CDC) Bring Your Brave educational campaign and funded by the National Association of Chronic Disease Directors and the CDC. For more information about how to participate in the QI effort and earn free CME and Performance Improvement credits, visit the project information page.  Enrollment is taking place in November/December 2023 on a first-come, first-serve basis for those who meet the participation criteria.  Through this grant we will be able to provide robust pre-packaged resources to up to four to eight FP clinics.  Don't delay, get enrolled today!


Integrative Health: Thanks to the generous support of the Samueli Foundation, the FMEC will initiate a new Integrative Health Learning Collaborative and make integrative health education available to all FMEC through new virtual programs. For more information, visit the project information page.
---
Orientation to the FMEC for Incoming Residents and Others
Thank you to everyone who joined us on August 23, 2023 for this short, informational webinar!  This webinar was presented by members of the FMEC Executive Committee (below) along with FMEC CEO Scott Allen. Please watch and learn from FMEC leaders as we shared information about the FMEC and took your questions and suggestions.  Watch the recording here.  Slides can be viewed here.


---
2023 Family Medicine Residency Showcase Virtual Events
What are the FMR Showcase Virtual Events?
For the fourth consecutive year, the Family Medicine Education Consortium (FMEC) offered virtual meetings to introduce interested medical students and others to the many outstanding Family Medicine Residency Programs in the northeast.  U.S. Faculty in family medicine residency programs presented on emerging and exciting topics in family medicine, while also spotlighting their residency programs and what makes them strong and unique.  Read More!
---